THE FRIENDS OF PLYMOUTH GREAT WOOD
CONSTITUTION
CCC documents: SINC review 2004 | Biodiversity | St Fagans





May, 2009 - Cardiff Council have declined the residential development proposed for the fields south of Plymouth Great Wood bordering Glyndwr Road, Llewellyn Avenue and Pethybridge Road (depicted in red below) thus providing a valuable buffer to protect the woods and their environs. To all Friends who (in accordance with the Objectives (Article III) i, v and vii of the Constitution) engaged in the protests and all the other members of the community who were similarly engaged, please accept my most heart-felt thanks.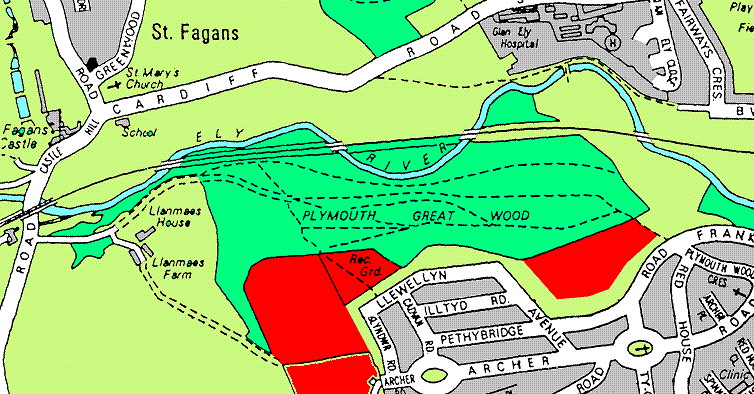 contact us at paulkemble@hotmail.com

Chair: Paul Kemble,
93 Highbury Road,
Cardiff,
CF5 4LS,
UK.

November, 2012 -

"CARDIFF LOCAL DEVELOPMENT PLAN 2006-26 Background Technical Paper No.6 Summary of consultations undertaken to date. Page 50

Summary of Representations Officer Response 'Stage 2: Evidence base' should include initial consultation on candidate sites and that such sites are also identified by Grid Reference and or street names/boundaries. The Council will produce a Candidate Site Register setting out details of all the candidate sites submitted this will be made available to view on the Council's website and will include grid references and street names/boundaries.

Add the following consultees:
Friends of Plymouth Great Wood
The Ely Garden Villagers
All other Cardiff Friends groups
Riverside Market
Riverside Development Trust
The Federation of Community Gardens & City Farms
BTCV
Keep Wales Tidy
Voluntary Action Cardiff Environmental Action Group
Howardian Local Nature Reserve.
Adamsdown Environmental Action Group
South Riverside Community Development Centre"


"Not bad, top of the list"